Following up on our series about climate change in pop culture (read part 1 about young adult novels and part 2 about pop songs), here are some more examples of songs dealing with the topic of climate change. This time, we focused on independent and alternative music.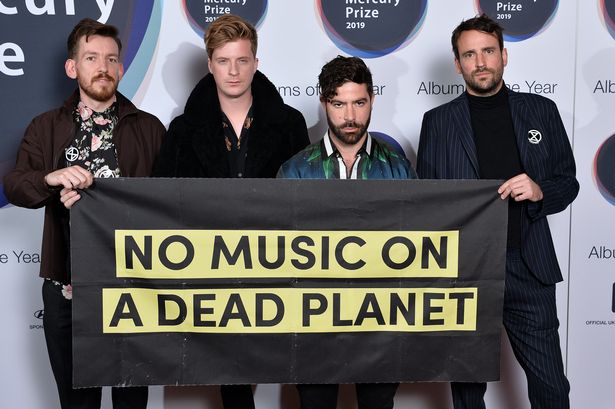 Climatization in pop culture
Through climatization, a process of re-framing several societal issues in light of the climate crisis, we can also expect the music industry to be affected by its rise in salience. The environment has already been a topic in pop music for a long time, mostly as a lyrical theme – many may know songs like Michael Jackson's "Earth Song", Marvin Gaye's "Mercy Mercy Me (The Ecology)" or Midnight Oils "Beds Are Burning".
In recent days, though, we have seen several artists engaging specifically with the issue of climate change. This time, not only through lyrical themes, but also in practice: Coldplay don't want to do a world tour because of its environmental impact; Billie Eilish is showing herself wearing a T-shirt with the slogan "No Music on a dead planet"; The 1975 features Greta Thunberg on a single; and British bands like Radiohead and The Wombats are joining a group of artists called "Culture Declares Emergency".
However, many notions of a green music industry have to be taken with caution. While there may be some artists genuinely dedicated to reducing their environmental impact, such as Radiohead or Coldplay, one must ask about the ulterior motives behind all of this. Much like the way many firms put a green label on their brands and products in order to jump on the bandwagon [see our blog post on Greenwashing], one must ask to what degree artists' and music industry's interest in climate change simply comes down to marketing success.
Music as social criticism and protest
Less likely to be suspected for such moves are those that run under the labels of independent and alternative music. Music that does not appear in Spotify's Top 100 lists or represented by major labels. For many artists and labels, filed under these two huge umbrella terms, social criticism and protest is often deeply rooted in their identity, reaching back to the times of civil rights and anti-war movements and the 1970s phase of "do it yourself" punk, rock and metal music [Moran, Ian P. 2010].
Even though this type of music is not the most commercially successful, it still is a relevant part of music culture. Music culture is becoming increasingly fragmented. We find ourselves presented with millions of different songs and artists, and the places in which we consume music are more and more individualised by algorithms.
While platforms like YouTube and Spotify find other ways to produce convergence in listening behaviour, there are still many niches in which independent music thrives. Scenes and subcultures continue to emerge and evolve. As irrelevant as they seem, many musicians nowadays are creating their own audience, distribution pathways and are becoming less dependent on the gatekeepers of mainstream music labels (and audiences). And this trend may continue in face of the criticism of big streaming services [Prattichizzo, Giovanni 2015].
Independent music as a driver for societal change?
For many people, these genres of music and arts are part of their identity, and are often associated with distinct "scenes" or "subcultures". Within these, we can see hubs for social change, as they actively try to construct a set of values, practices, and ideas different to the one's dominant in a society [Moran, Ian P. 2010; A History of Punk; and O'Connor, A. 2021].
So, while we should be sceptical about the potential of the popular music industry to pull off an effective critique on climate change, not least due to their structural dependency on the economic and social status quo, in independent (sub-)culture we might find more "boldness". Less pressured by sales or streaming figures, subcultures could be able to provide creative spaces for artists and fans alike to experiment.
This could potentially fill an important gap: Many voices from social sciences and journalism identify a lack of positive future visions and "utopias" for climate change. Visions that reach beyond technological innovations and market-logic [Guardian; GEO Plus; and der Spiegel]. Though recent research on metal music has indicated that distinct visions of hopelessness and apocalypse are dominant [Collinson, Ian 2019], our following examples of songs show that this may not be the case everywhere.
Example songs
Gojira, "Another World" (2020):
The French heavy metal quartet is known for dealing with issues like ecological destruction, the extinction of species or protection of the ocean in their music. The band uses their platform to raise attention for environmental protection groups like Sea Shepherd. They also use their music to raise funds, recently for the indigenous groups of Amazonia.
One of their most recent songs, Another World, together with a beautifully illustrated music video, tells a story of scientists trying to escape a future planet earth in demise. They hereby borrow from the plot of the original "The Planet of the Apes" movie. Much like the older science fiction literature and movies, they are not only criticizing the techno-centrism of mankind, but also point out that there is only one planet. Humanity shouldn't "escape" from the consequences of our actions – but face them.
"Don't believe your lies / Don't believe your tales / I'm longing for the day I will find / Another world"
Enter Shikari, "Waltzing off the Face of the Earth" (2020):
To reduce the newest output of Enter Shikari to one single issue would be impossible. From their very beginning, the British band is outspokenly political, released multiple songs on climate change (denial), and vocally supports the environmental group Extinction Rebellion UK. In their song "Waltzing the Face Off The Earth", they draw connections between structural problems of modern societies: "nothing is true and everything is possible" illustrates a state, where all orientations and knowledge is gone or uncertain and depicts a feeling of anxiety for the future, instead of embracing it. It thereby also refers to the spread of fake news and the 'post truth' era.
In light of the 2021 IPCC report, singer Rou Reynolds called his followers on Twitter to learn about the structural causes of the climate crisis and start protesting. The band continues their work on the topic of climate change in a broader approach: They released a four-part documentary on YouTube and have released a book following up on the story of the album, diving deeper into the possibilities for societal change.
The Hirsch Effekt, "Agera" (2020):
The German avant-garde-metal band used their latest album "Kollaps" to portray their observations and thoughts about the Fridays for Future protest. Deeply inspired by the courage of the youth, in the last two years they have been supporting the movement and playing live shows in demonstrations. They are also trying to reduce the carbon impact of their activities as a band; at the same time, they are frank about the current limitations and voice them publicly in interviews.
The album closer is called "Agera", Swedish for "to act". This song is a call for action, featuring a children's choir (min. 04:45) to reflect upon the responsibility of everybody to act:
"Wo Handeln ist, kommt Hoffnung von selbst" (Where there's action, there will be hope).
Nick Mulvey, "In The Anthropocene" (2019)
A recent single of the British singer-songwriter Nick Mulvey called "In The Anthropocene" has been released on vinyl made from recycled plastic that was washed up on South UK beaches, and all proceeds went to charity for ocean clean-up. On Twitter he has also been vocal about the structural relationships between reasons to fight for: climate change / labour rights, and refugee crisis / animal rights. Much like Gojira, though in another tonality, Mulvey addresses the inseparable connection of humans with planet Earth, which demands 'us' to "raise ourselves to match the Earth":
"In the Anthropocene / What does your freedom mean? / The voices of future grandchildren / I hear them asking: What were you doing?"