"Act Responsibly Even when You Don't." Next to this ambiguous slogan, two young models in jeans are lolling about, promoting Diesel's Green Label, the brands' sustainable line. And this is what follows: "Go crazy and at the same time treat the planet with our responsible pieces from the Fall Winter 2020 collection". Sustainability and shopping the new arrivals of each and every season – how "consciously" and "responsibly" sourced they may be – does that match? On another rather urgent note: I still needed Christmas presents when I read this.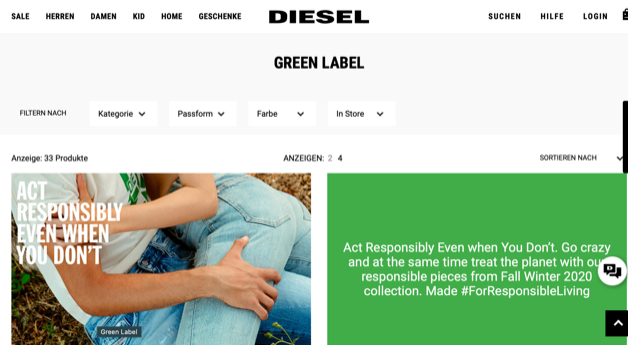 Googling "sustainable gifts" will return all sorts of attractive results that labels have not only given the Christmas coat of paint, but also a supposedly green one. And in 2020, sustainability as an incentive to buy has had other suits made to measure. There is the #supportyourlocals hashtag, with which online retailers such as Amazon and Zalando are luring me to buy, buy, buy and feel good about it. It's Christmas after all and everyone should share a piece of the cake.
Smaller labels, that are getting a considerable share of their traffic through influencers, snapping that perfect angle for Instagram, can hardly do without the sustainable decor these days. The clothing label "Nu-in fashion" has been particularly in my face on social media recently. On the brand's website, I don't even have to reflect on the values I would like to support during the giving season of this crazy year. It's right there in my face: "Give back at christmas, buy for good". Okay, define "good" Siri: 20 percent of Nu-in fashion's net sales are going to women and children in need. Now this is as vague as it gets, but who am I to think twice about supporting children in need?!
So however wording it, to hit that weak spot of us privileged folks wanting "to give back" this holiday season, make sure that the sustainable-banner is featured prominently. Chances are high, 80 percent of us won't notice the hypocrisy, because people are proud they even got a gift for that grandmother's sister's goldfish of yours.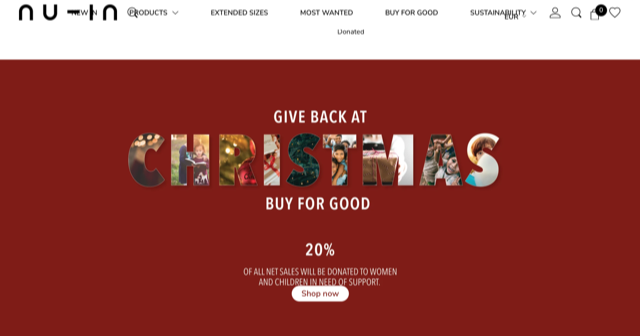 But why do I sound so cynical after clicking myself through multiple of these ads? Shouldn't I be filled with positivity, touched by the generosity of brands who might themselves be struggling but despite all, are putting the planet first? A new term was even coined to embrace all that positivity with a sprinkle of "we're all in this together" and unite under the catchy concept of "Goodvertising".
"Goodvertising" cleverly combines advertising with a socially relevant added value and might just be another distant cousin of Greenwashing. Here's an example…and also the problem: If we buy the eco-fair beanie made from "sustainably sourced" wool and send it off for Christmas with climate neutral shipping, it gives us the feeling that we have done something good, something green – after all, something relevant. But did the recipient really need a new beanie? The idea of wanting to change the world with the shopping cart alone falls short. We tend to ignore the fact that nature would be much better off if we hadn't bought a new hat at all, but carried on wearing our old one or bought one from the second-hand shop.
Maybe not only this holiday season, instead of just consuming better or differently, we should ask ourselves: How can we get by with fewer things and less resource consumption?
The key concept here is not catchy but, in contrast to the examples above, really deserves the sustainable label: I'm talking about sufficiency. It relates to the idea that what we already have is enough. That ten different pairs of jeans are more than each of us are going to wear in a month. That a holy sweater may be stuffed and the leaking fridge might be fixed if we ask a friend with skills.
Sufficiency also reminds us that the creation of seasons for clothing lines, interior design, even DIY-sets is unsustainable in the first place, because it creates the notion of being permanently outdated. This in turn motivates us to buy new flashy things that we already have, but not from the new seasonal drop, right? Add an incentive to buy that is considered socially relevant right now to the mix, such as donation programs, or remind them of the recycled ingredients and people are unlikely to think twice about the true need of their purchase.
As you yourselves may know, this marketing strategy works particularly well during the holiday season or for example with students landing a great deal on Black Friday they could otherwise never have afforded. The supposedly green labels don't spare us on this day either and blow their products at a lower price.
What I at least would often like to be kindly reminded of then, is that the purchase I'm about to make is not sustainable or responsible from the outset unless I really need it. It is almost always more sustainable and associated with fewer emissions to reuse what you already have instead of using up resources to create something new.
You may have a big event coming up mid-2021 and after living in sweats for nearly a year, are really looking forward to getting suited and booted for it – but then again could you maybe borrow a dress from a friend? Think about that possibility, because how likely is it that you'd want to wear the same dress from that occasion to the next big thing too?
Of course the concept of sufficiency doesn't go very well with a capitalist market that is oriented towards the maximum gain and exponential growth. Now living in a very firmly capitalist society, attempting to argue a shift "just" for the good of the environment sounds like a very blown up philosophical concept. You'd have to be satisfied with "being" and not just with "having" and all that.
However, returning to our own consumption and the moments in which we are looking to get something for others – which we're not sure they'll need – there are steps we can take to be truly more sustainable and let it feel sufficient. And I don't mean gifting someone the planting of a tree somewhere with which you're just compensating that Christmas tree you bought and are going to throw out the window when Ikea tells you to (ringing in their new season).
Instead, ask yourself: Can you gift something next year that people have been missing during the pandemic and that cannot be bought? This could be a good old long and strong back massage instead of a new scarf. The joy of cooking together (also possible via Zoom) instead of a new cookbook. Team up with friends or relatives to gift that special person a bigger gift, like the guitar they had wanted for ages, but couldn't afford all alone (bonus: you'll be getting the gift of music back). This way you are reducing the number of small gifts that you picked up thoughtlessly on the way and that will mostly be covered with dust soon, rather than touched by your loved ones.
So maybe my message after going through the frenzy of hunting for potentially sustainable gifts this year and re-googling if their production line could actually be termed "environmentally friendly", is this: let the humans around you be sufficient. Forget the gifts (and especially the wrapping paper!) and think about asking if you could instead divide the cooking load. Minimalism doesn't have do the trick for you, but I hope this quote of Minimalist Joshua Fields Millburn does: "Love people, not things."
References
BMU (2020): Nachhaltiger Konsum. In: bmu.de, https://www.bmu.de/themen/wirtschaft-produkte-ressourcen-tourismus/produkte-und-konsum/nachhaltiger-konsum/
Bödger, Mike (2020). Linked-In Profil 16.12.20 – coining the term "Goodvertising"
Der Nachhaltige Warenkorb (2020). So gelingt nachhaltiger Konsum. In: nachhaltiger-warenkorb.de, https://www.nachhaltiger-warenkorb.de/nachhaltiger-konsum/so-gelingt-nachhaltiger-konsum/
Minimalism – A Documentary About the Important Things (2016). Directed by Marc D'Avella, Produced by Joshua Fields Millburn, Ryan Nicodemus and Matt D'Avella. Streamed on Netflix, https://minimalismfilm.com
Scherhorn, Gerhard (2001). Wie kommen wir zu nachhaltigem Konsum, nachhaltigen Märkten, nachhaltiger Kultur?. In: Wuppertal Papers, Nr. 107 (März 2001), pp. 7-36
Stock, Robin; Renelt, Leonie (2018). Ich kaufe, also bin ich? Von der Konsumgesellschaft zum guten Leben für alle. In: bundjugend.de, https://www.bundjugend.de/projekte/mit-suffizienz-zum-guten-leben-fuer-alle/nachhaltiger-konsum/