von Fenja De Silva-Schmidt und Michael Brüggemann
Ein durchaus besorgniserregender Befund unserer Forschung ist ein mangelndes Vertrauen der deutschen Bevölkerung in die Medienberichterstattung zum Klimawandel. In der deutschlandweiten Umfrage unseres Projekts "Down to Earth" war die größte Gruppe unentschlossen, ob sie den Medien bei diesem Thema vertrauen soll. Die zweitgrößte Gruppe vertraute den Medien nicht; nur eine Minderheit vertraute ihnen (siehe Grafik). Dies steht im Widerspruch zum durchaus robustem Vertrauen der Mehrheit in die Medien, so wie wir es aus anderen Befragungen kennen.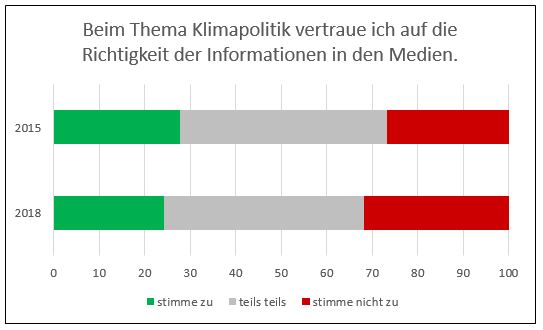 Eine mögliche Erklärung für dieses schlechte Zeugnis für die Klimapolitikberichterstattung liefert nun eine Langzeitstudie zum Medienvertrauen der Uni Mainz. Sie zeigt, dass das allgemeine Medienvertrauen in Deutschland (in der Studie als "Globalvertrauen" bezeichnet) höher ist – 44 Prozent der Befragten stimmen der Aussage zu, dass man den Medien "bei wichtigen Dingen" vertrauen könne. Allerdings ist auch in der Mainzer Studie das themenspezifische Medienvertrauen deutlich geringer. Werden die Menschen also zu konkreten Themen gefragt, ob sie den Medien vertrauen, äußern sie sich deutlich kritischer. So vertrauen beim kontroversen Thema Flüchtlinge nur 24 Prozent der Befragten den Medien, 35 Prozent misstrauen der Berichterstattung. Selbst beim weniger kontroversen Diesel-Skandal vertrauen nur 35 Prozent den Medien.
Diese Zahlen passen wieder gut zu unseren Befunden, dass beim spezifischen Thema Klimapolitik nur ein knappes Viertel der Deutschen die Berichterstattung vertrauenswürdig findet. Möglicherweise wird Klimapolitik als ein eher kontroverses Thema gesehen, bei dem die Menschen den Medien kritischer gegenüberstehen. Zukünftige Forschung sollte noch genauer erforschen, warum bei konkreten Themen das Vertrauen geringer ist und warum es Unterschiede von Thema zu Thema gibt.

In our Down to Earth survey, we found that Germans are sceptical towards media reporting on climate politics: While the majority is undecided, more people voice their distrust than those who trust in the media. This finding is coherent with a study published by the Universität Mainz, which shows that subject-specific media trust in Germany is low on other topics as well, especially on controversial subjects – while generalized trust in media reporting remains substantially higher.