What kind of food do people in Hamburg usually eat, and do they link their daily consumption to sustainability? The sub-project from Prof. Stefanie Kley conducted a representative telephone survey with more than a thousand respondents in Hamburg from August to December 2018, dealing with the topics of food choice and nutrition. First results are now available (flyer, in German).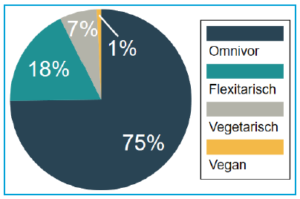 A short summary for our English-language readers: three out of four people eat meat regularly; 18% call themselves flexitarian, meaning they only eat meat on rare occasions. Only very few respondents are vegetarian or vegan.
The large majority of participants buy their groceries in the supermarket or discounter. Most important aspects for food choices are healthiness and regional production.

Was essen die Menschen in Hamburg, und spielt Nachhaltigkeit eine Rolle für ihre Ernährungsgewohnheiten? Das Team von Prof. Stefanie Kley hat eine telefonische Umfrage durchgeführt, um mehr dazu herauszufinden. Von August bis Dezember 2018 nahmen mehr als tausend Hamburger teil. Erste Ergebnisse werden in einem Flyer zusammengefasst.