While Donald Trump was responsible for most peaks in the Twitter debate on climate change in recent years, 2018 was different: a scientific report trumped Trump in triggering the most intensive Twitter debate related to climate change.
As in previous years, we take a look at the Twitter data our Online Media Monitor (OMM) has gathered over the course of 2018, and describe the events that triggered tweets about climate change, as well as the most important domains that were linked to and the most active accounts in our sample.
In summary, the number of tweets related to climate change has again risen in the past year. However, our sample does not allow us to examine whether this means that climate change has become a more prominent topic in Twitter communication, or if the number of tweets in total has risen, too.
For most of the year, the number of climate change-related tweets per day is astonishingly stable. In the second half of 2018, attention peaks were triggered by political and scientific events, as well as weather phenomena.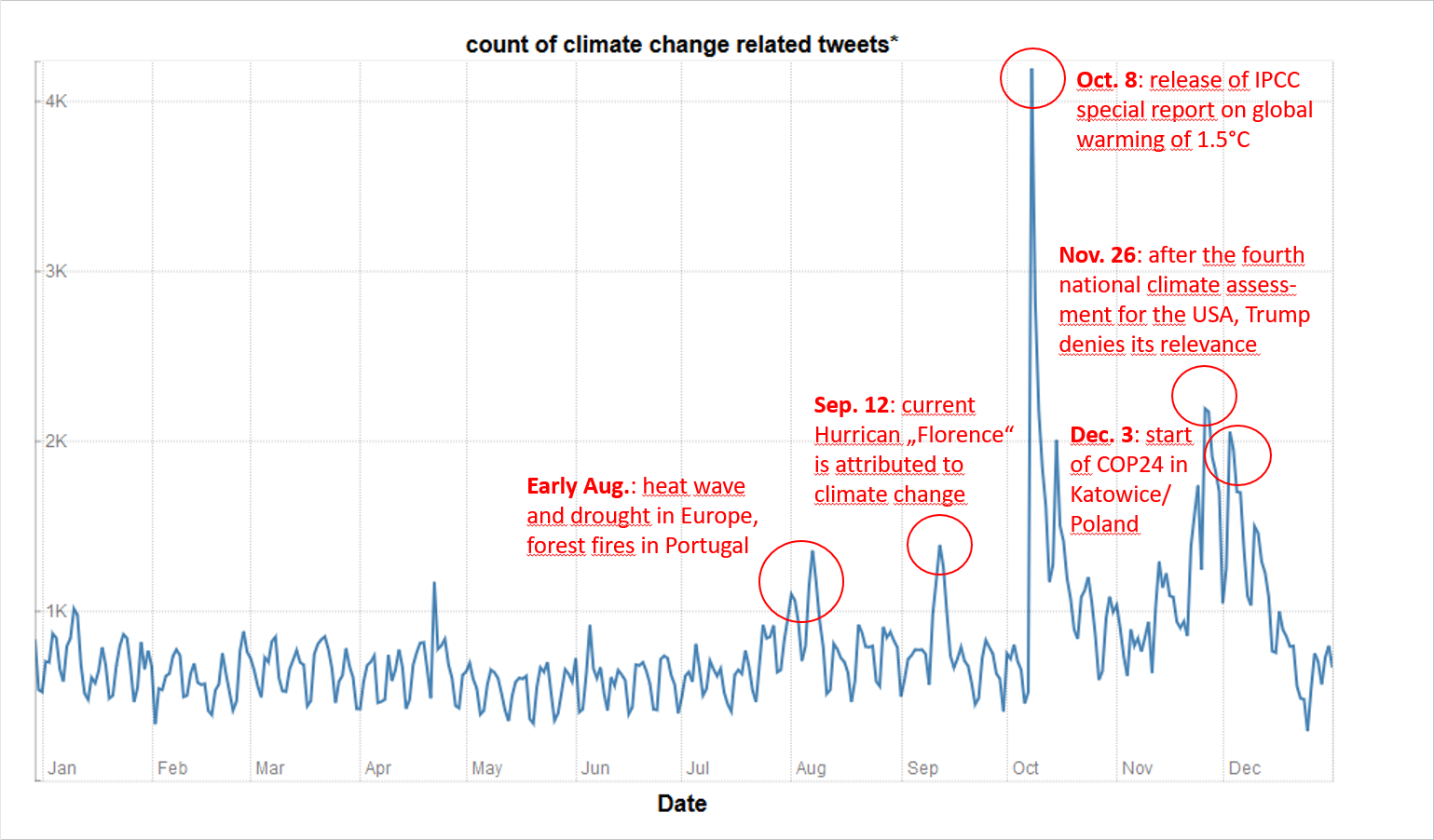 There were more than 1,200 tweets per day for the first time in 2018 in early August, during the persistent heat wave and drought in Europe. Forest fires were raging in Portugal while Germany and other countries were suffering from extreme drought. On Aug. 6, the German Potsdam Institut für Klimafolgenforschung (Potsdam Institute for research on climate change effects) issued a statement that climate change might trigger heat waves sooner than previously thought. (We already analyzed if and how the weather triggered climate change coverage earlier on this blog.)
In September, Hurricane "Florence" hit the US. The peak of attention manifested on Twitter when scientists' reports connected the storm to climate change, warning that climate change will probably intensify the frequency and magnitude of hurricanes.
The most discussed event on Twitter in 2018 was a scientific one: After the release of the IPCC special report "on the impacts of global warming of 1.5°C above pre-industrial levels" on Oct. 7, the OMM recorded an all-time high of 4196 tweets on one day. In comparison: The highest peak in 2017 had 2803 tweets per day, when Trump announced to leave the Paris Agreement; in 2016 his mention of a "climate hoax" in the presidential debate with Hillary Clinton triggered 1485 tweets that fit our criteria.
Again, it was Trump who triggered another peak of attention for climate change, with his dismissive reaction to the fourth national climate assessment for the USA. Although the report warned that the US will face serious economic consequences of climate change, the American president just did not "believe it".
As in previous years, the UN climate summit was a major driver of Twitter dialogue about climate change. Its beginning on Dec. 3 resulted in the highest number of tweets in the two weeks of the summit. Unsurprisingly, the debate reached its low point on Dec. 25, when most Twitter users were likely too busy celebrating Christmas to tweet about climate change.
We can sum up – in accordance with our colleagues from MeCCO, who are following the climate change debate in offline media – that Donald Trump is still a major driver of attention for climate change (although often in a negative way). In contrast to the previous year, however, he is not dominating the main events any more: Out of the five events triggering the most tweets, only one related to him directly. The other events are a combination of extreme weather events and scientific reports, linking the weather events to the greater picture of climate change. Thus, the voice of science seems to have become more prominent in the global Twitter debate.
Regarding the domains that the tweets linked to, there were almost no changes compared to previous years. News outlets still dominate the ranking. Two of them are new in our top ten list: Vox, an American news and opinion website noted for its concept of explanatory journalism, and grist.org, an independent news outlet and network of innovators writing about climate, sustainability, and social justice. On rank 10, we find the personal blog of an Australian climate activist.
The three accounts contributing the most tweets in 2018 were "GlobalClimateChange" (@GCCThinkActTank) with 56,759 tweets in our sample, Anne-Maria Yritys (@annemariayritys) with 33,943 tweets and AroundOnlineMedia180 (@AroundOMedia) with 20,814 tweets. All three accounts belong to the same person – who self-declares herself as "Finland's most followed business person on Twitter" and describes herself as "an active (online) networker and social media strategist" also interested in climate change and sustainability. As far as a Google search reveals, she seems to be a real person and not a bot – which would make her case a stunning example how single people can reach vast audiences via social media.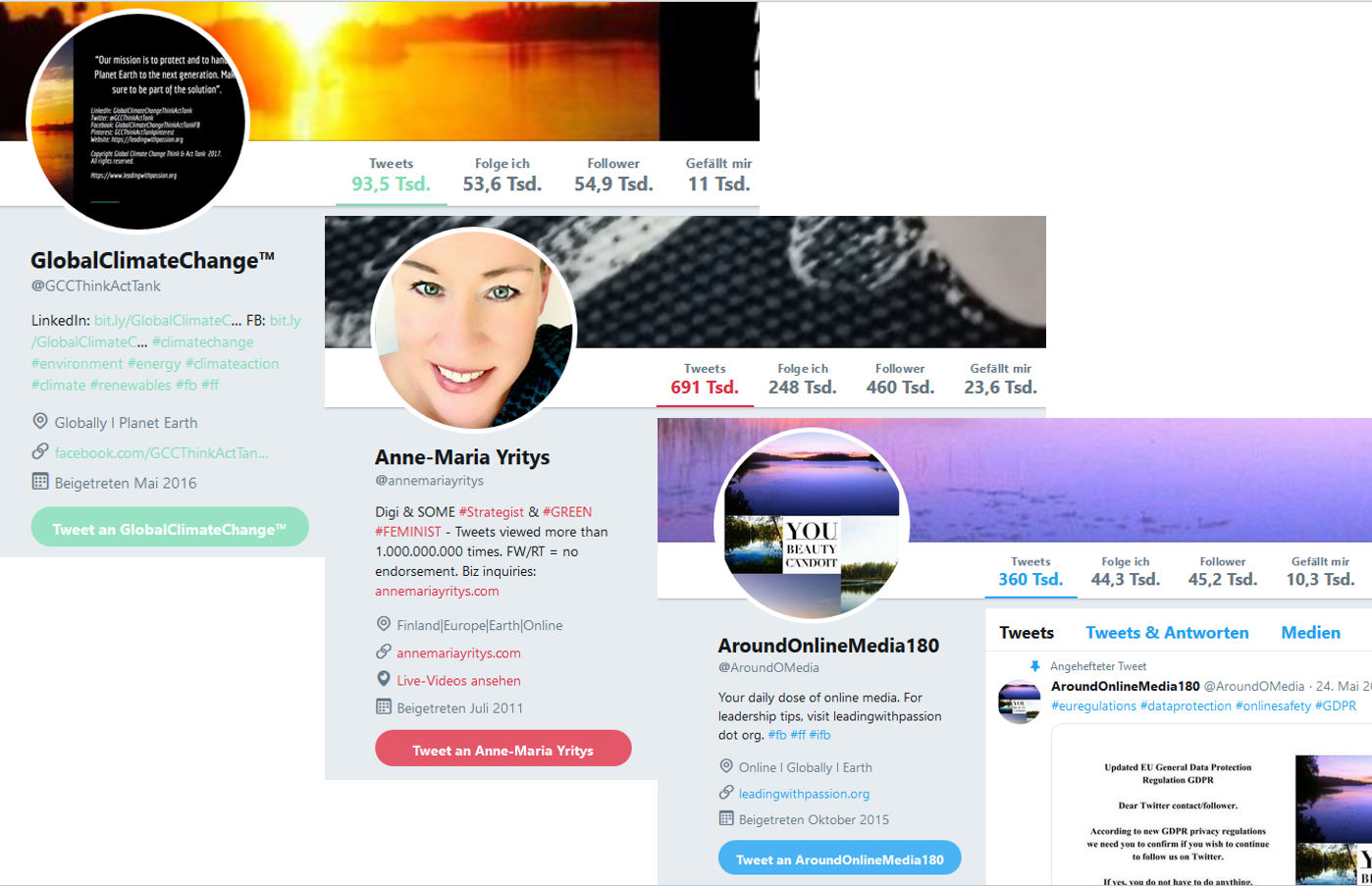 The most retweeted tweets in 2018 were all sent by accounts that are extremely active, having sent more than 50,000 and up to 150,000 tweets. They contained either extreme right positions or an extremely positive stance towards climate activism – this is not a pattern specific for the topic of climate change, but extreme positions on Twitter in general trigger high numbers of retweets.
To sum up, our retrospective gave some insights into general mechanisms of attention on Twitter – controversies and extreme positions fuel the debate – as well as explain attention for climate change on Twitter in 2018, which was mostly provoked by scientific and natural events, completed by political events.
Method: Our Online Media Monitor provides ongoing monitoring of the transnational online media debate on climate change by searching for related tweets. Since January 2016, the OMM collects tweets if they contain the following hashtags or key words: #climatechange OR "climate change" OR "global warming" OR "Klimawandel". Additional criteria are that the tweets got at least 5 retweets and contain at least one link.