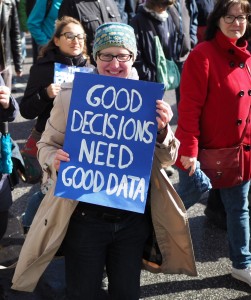 Der amtierende US-Präsident ist nicht der einzige, aber einer der lautesten Vertreter einer "postfaktischen" Sichtweise, die sich durch die Leugnung von Verantwortung und einen Rückzug in Subjektivität auszeichnet und in der wissenschaftliche Fakten nach Belieben zur Kenntnis genommen oder ignoriert werden können.
Zu der Frage, wie sich Wissenschaft und Medien auf diese veränderten gesellschaftlichen Rahmenbedingungen einstellen und ein "Trump-o-zän" verhindern können, hat Michael Brüggemann einen Vortrag bei der Jahrestagung 2017 des Deutschen Klima-Konsortiums (DKK) gehalten.
Eine erweiterte und aktualisierte Fassung dieses Vortrags ist nun bei klimafakten.de und auf der Seite des DKK zu lesen.

Science Communication in the "Trumpocene" – How we can prevent the post-factual age
The recent political and medial changes labeled as the dawning of "the Trumpocene, a new epoch where climate change is just a big scary conspiracy" (Graham Readfern / The Guardian) challenge science and the media to find new ways in science communication. In a presentation for the annual meeting of the German Climate Consortium (Deutsches Klima-Konsortium), Michael Brüggemann has collected suggestions how to prevent the takeover of post-factual views.
The editorial is only available in German via klimafakten.de.