Today we briefly survey media coverage of the Paris summit from the two largest online news sites from this author's homeland, New Zealand.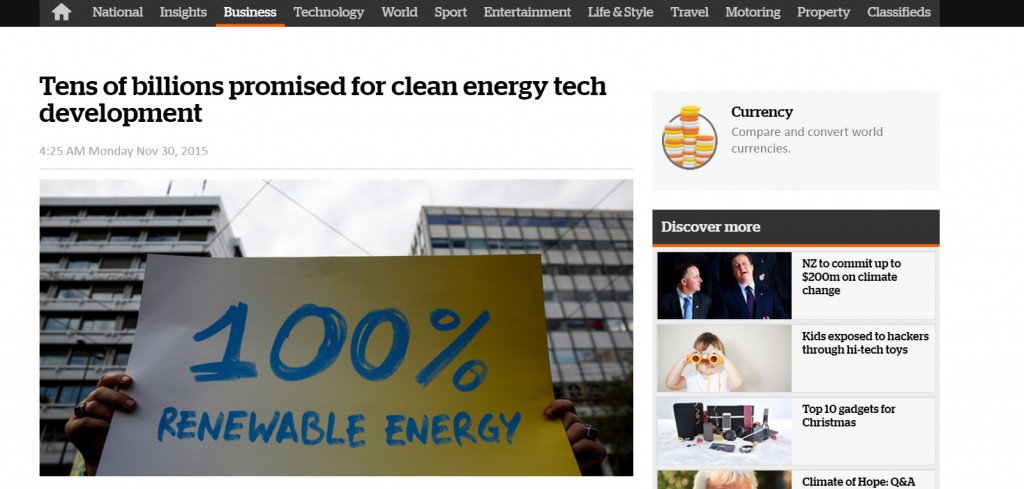 By Feilidh O'Dwyer
Stuff.co.nz
New Zealand's most popular online news site is owned by Australasian media giant Fairfax Media. It curates stories from regional newspapers as well as covering original breaking news stories. On the 30 November, Stuff posted at least 10 stories relating to the summit, although several were sourced from The Guardian, AP or other foreign sources. Several of the stories reflected on regional climate protests in New Zealand in towns such Nelson and Palmerston North. These protests occurred as part of global climate protests on 29 November. Stuff included an editorial from the Wellington daily paper The Dominion Post. The editorial referred to New Zealand's offering at Paris as "mediocre" and pointed out New Zealand's large agricultural sector was basically excluded from having to make carbon reductions by the present government.  Another article also mentions the emissions from agriculture, stating that the sector accounts for 48 percent of all of New Zealand's carbon emissions.  The story also shows statistics about the enormous amounts of palm kernel that New Zealand imports which is said to contribute to deforestation in Indonesia.
New Zealand Herald
This is the online edition for New Zealand's largest circulating daily newspaper published in New Zealand's biggest city, Auckland. The Herald also provided around 10 articles relating to the summit, half of which were sourced from abroad. One was a timeline of key events in the UN history of climate summits. Several stories referred to Obama's actions in Paris, including him visiting the sites of the Paris terror attacks and his push for a strong change in policy on climate matters when facing a combative domestic environment in the United States. Another article in the business section discussed the amounts governments and prominent tech billionaires such as Bill Gates are willing to invest in clean energy technologies.
Check back tomorrow for another climate summit media summary from another part of the globe!