A quick update with visuals drawn from our Online Media Monitor on Climate Change (OMM)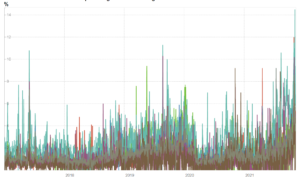 Good news: COP26 has refocused news media attention and Twitter attention to climate change to an all-time high since 2017. This is also true when dating back to 2004, according to Max Boykoff's observatory on media coverage, which shows–based on slightly different method and sample–similar results.
At the same time, the countries' differences remain consistent. For example, the United States continuously shows a higher attention to climate change than Germany.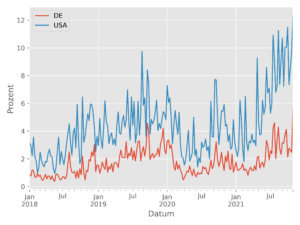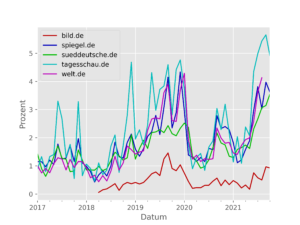 It is inefficient, though, to speak of "the media". Germany's biggest tabloid BILD ignores climate change consistently. Online news of tagesschau.de display higher attention levels than the other outlets in our sample. Yet, we are talking about 2-4 percent of news items that mention the term climate change (OR global warming OR climate crisis, etc.) only once. The share of news actually focusing on this topic is much smaller, as our in-depth manual studies of media content show.
Credit and thanks to Remon Sadikni, from the Integrated Climate Data Center at CEN, Universität Hamburg, for preparing the visuals and keeping the Online Media Monitor up and running!
Quoting OMM:
Brüggemann, Michael / Sadikni, Remon (2021): Online Media Monitor on Climate Change (OMM): Analysis of Global Tweets and Online Media Coverage. Universität Hamburg. URL: www.climatematters.de