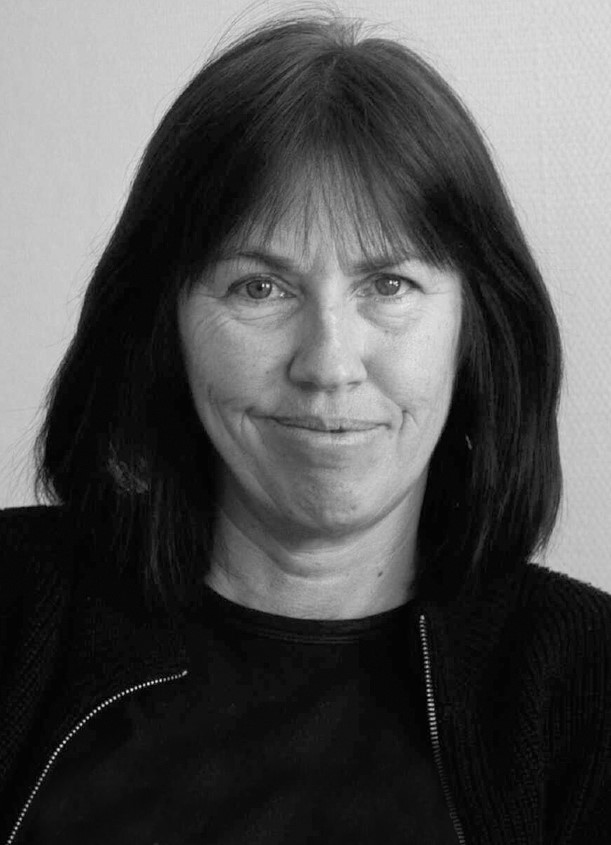 The Paris climate protests on Sunday 30 November were largely silent. After the 13 November terror attacks and the state of emergency introduced by President Hollande, demonstrations are banned.
At Place de la République, where the monument is still surrounded by messages of grief and the scent of roses, activists gathered in the morning. Several thousand pairs of shoes were placed to draw attention to the ban on demonstrations. A few hours later, some people tried to march, but were stopped by a massive contingent of police who barred all the roads exiting the place.
A few kilometers away, at Bataclan, where «Eagles of Black Metal» posters still hang promoting the "next performing artists", representatives of indigenous and small island states gathered in the mass of candles and flowers to show their compassion. From there they joined the long human chain which snaked its way from Nation to République.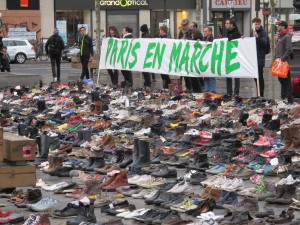 Not two degrees, 1.5!
One of the participants at Bataclan was the poet Kathy Jetnil Kijiner from the Marshall Islands. This island state with 71 000 citizens has sent forty representatives to the COP to fight for the 1,5 degree target, which might secure the survival of itself and other island states. In her blog Kijner writes about a CNN reporter who asked her to write a poem about the two degree target. She accepted, but changed the target to 1.5, since two degrees warming would mean the end for many of the island states in the Pacific and elsewhere. The Marshall islands experienced a major flood in 2008, which caused extensive damages in the capital Majuro. Unfortunately, natural disaster again struck in 2013 when they were hit by a serious drought which caused a precarious water shortage.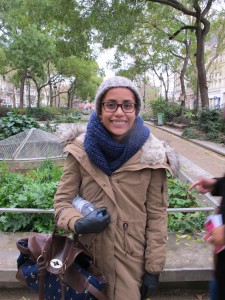 Among wreaths and numerous messages for the victims from November 13th at Bataclan, Kijiner expresses her hopes that more people will listen this time, when island state leaders speak. She is an official delegate at the conference. For the second time this year she has crossed continents to speak about the vulnerable situation of her home country. The first time she was invited to speak was at the UN summit in September. There, she recited a poem she had written for her 21 month old daughter. Unfortunately Obama arrived too late, but a large number of state leaders were present.
A question that remains for people like Kijiner is "Will activists from island states find support for the 1,5 degree target?"
"Well, the alliance between islanders and indigenous people of the world is strengthened. And after the last elections in Canada, we have received support from prime minister Trudeau. President Obama has also given some positive signals, but the congress is not very supportive," Kijiner said.
The Marshall islands have recently encountered much more extreme weather than they had in previous years. According to Kijiner they even lost one island, Ellakan. This island used to be a place where people would go to gather fruit and other products but had "died" during the last ten years. More islands could die in a country where large areas, including the capital, are less than four feet above sea level.
"Just before I left I met with women organizing a chicken barbecue, to raise funds for their sea wall, which had been destroyed. Such ruining of protective walls happen more frequently than before," she said.
What does climate justice mean for you? Some G77-states, such as India, have argued that historical justice implies that the ones who have contributed the most to global warming should have to contribute more than the rest.
"We have friends in India who think differently. The historical responsibility is important, but not decisive. In our alliance now, we think that all states have to act to save the climate."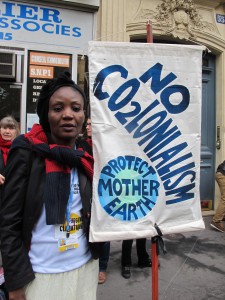 Evacuate?
The manifestation at Bataclan is silent and respectful. Kijiner says that the French grief is also theirs to share.
"Lives were lost here, lives are lost at our islands, in a sense, all of our struggles are connected. And when we stand together, we emphasize this connection."
"At home people do their share to save the climate. Many of our islands are solar powered. We try to promote cycling instead of driving, and we work for a cleaner sea transportation."
The Marshall islands have a special relation to the U.S, going back to the nuclear testing at the Bikini atoll in the 1940s and 1950s. The country is independent, but has a friendly association with the U.S.
With the current threats to their livelihoods, do many Marshall Islanders think of leaving?
"Some do, but our mentality is rather that we should not need to evacuate. We still think it is possible to avoid this", says Kathy Kininer.
The poem read by Kathy Kijiner at the UN conference in September.
[1] Opplesningen på denne lenken.