Current publications available for download
[Deutsche Version weiter unten!]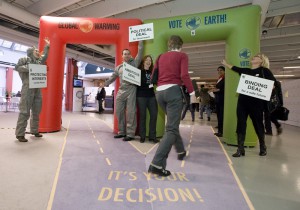 The UN climate summits are international public events which receive intense media coverage. In our project "Down to Earth", we analyse how news from the UN climate conferences in Paris (2015), Katowice (2018) and Madrid (2019) reached and affected citizens.
The first stage of the project (2015-2017) consisted of two related studies with different methodological approaches: a quantitative online panel survey to explore and explain changes in knowledge and attitudes towards climate politics, and a combination of qualitative communication diaries and focus groups to study use and perception of news on climate politics in daily life.
In the second stage of the project (2018-2020), we reran the former second wave of the online panel survey to analyse long-term effects and/or differences between the three conferences concerning their reception.
Duration: 2015-2020
Funding: CliSAP/UHH
Coordination: Fenja De Silva-Schmidt
Contributions (stage 1): Fenja De Silva-Schmidt and Imke Hoppe (University of Hamburg; communication diaries and focus groups); Josephine Schmitt (University of Cologne) and Dorothee Arlt (University of Bern; quantitative survey); Michael Brüggemann (project leadership)
Contributions (stage 2): Daniela Mahl, Lars Guenther, Fenja De Silva-Schmidt, Michael Brüggemann (all University of Hamburg)
_______________________________________________________________________

Die jährlich stattfindenden UN-Klimagipfel sind öffentliche Ereignisse unter intensiver Medienbeobachtung.
Zwei zusammenhängende Projekte untersuchen, wie die deutsche Bevölkerung Informationen über die Klimagipfel in Paris (2015), Katowice (2018) und Madrid (2019) erhalten hat und welche Wirkung diese hatten.
In der ersten Projektphase (2015-2017) untersuchte eine dreiwellige quantitative Online-Panel-Befragung, ob sich im Zuge des Klimagipfels Veränderungen in Einstellungen, Wissen und Mediennutzung der Menschen zum Thema Klimapolitik feststellen lassen und wie diese Veränderungen erklärt werden können. Zudem erforschten wir mit einer Kombination aus qualitativen Medientagebüchern und Gruppendiskussionen die Medienaneignung des Themas Klimapolitik im Alltag.
In der zweiten Projektphase (2018-2020) haben wir die Online-Panel-Befragung zu zwei weiteren Zeitpunkten wiederholt, um mögliche Langzeitveränderungen zu messen und Unterschiede in der Rezeption der drei Klimagipfel zu analysieren.
Laufzeit: 2015-2020
Finanzierung: CliSAP/UHH
Koordination: Fenja De Silva-Schmidt
Mitarbeit (Phase 1): Fenja De Silva-Schmidt und Imke Hoppe (Universität Hamburg; Medientagebuch/Fokusgruppen); Josephine Schmitt (Universität Köln) und Dorothee Arlt (Universität Bern; standardisierte Befragung); Michael Brüggemann (Projektleitung)
Mitarbeit (Phase 2): Daniela Mahl, Lars Guenther, Fenja De Silva-Schmidt, Michael Brüggemann (alle Universität Hamburg)
Publikationen: Zusammenfassung der Ergebnisse aus Welle 1/2015 als Working Paper; weitere Veröffentlichungen in englischsprachigen Fachzeitschriften